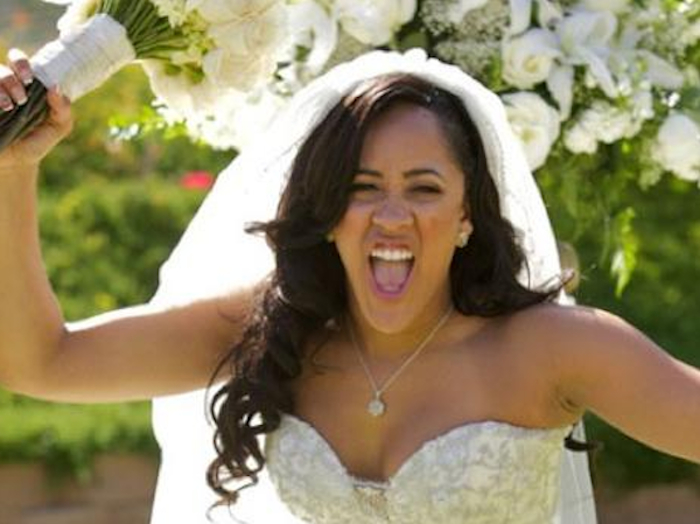 Photo credit: Outlish Magazine
I agree - NOT a good look! I think her aggravation came from unaccounted wedding day woes! It's my mission today to help you avoid looking anywhere in the vicinity of this on your special day.
We recently polled our friends on our Facebook page and asked what they'd guess to be a bride's biggest wedding day fear. Interestingly, the biggest fear most brides share is not fitting into their dress! While this hiccup doesn't have an instantaneous solution (turnaround time is needed for proper alterations), I can provide you a wealth of helpful tricks to solve other wedding day mishaps in a jiffy!
Here's a round-up of our Top 5 Links for Wedding Day Kinks!
1) Wedding Dress Stains: How To Treat Emergency Wedding Dress Stains by Mary Marlowe Leverette, Laundry Superheroine
Yes, laundry experts exist! *smile* Remember your mom's good ol' Help from Heloise books?
2) Pesky Pimples: 27 Quick and Crunchy Home Remedies for Pimples by Leslie Martin, Editor & Beauty Savant
3) Unexpected Guests: How to Deal with Wedding Crashers by Stephanie Emma Pfeffer, Writer & Editor
This is where the help of a skilled wedding planner or coordinator comes in handy! They are enlisted to do the dirty work and aren't afraid to be the "bad cop."
4) But You Promised!: When a Vendor is a No-Show by Nina Callaway, Event Planner
One of the scariest wedding day mishaps! I can relate. The wedding party driver decided to flake the morning of a wedding I was coordinating. All was set, confirmed, signed, sealed, and, well, almost delivered. While all eventually worked out, it can still be a major stress-inducer. Here are some additional helpful tips for other missing vendor snafus not mentioned in Nina's article:
- Wedding Cake 911: Have your wedding or venue coordinator or an über reliable friend/family member attending the wedding save the day by running to the closest bakery to buy cupcakes, a small cutting cake, and a cake tier to display at the reception.
- DJ 911: Grab an iPod, iPhone, or Droid (that's preloaded with reception and ceremony music) and dock it to speakers at your venue. Have a friend man it behind a table to remain inconspicuous!
- Limo/Transportation 911: You can book last-minute town car rentals (not a limo, but still a sweet ride for the bride and groom plus) through almost any rental agency. On weekends, airport-based car rental centers usually run around-the-clock. You can ask your planner or another über reliable to pick it up. If renting last-minute doesn't fit the bill and timing just won't work, check with a friend/family member who has a fitting vehicle to rescue you! While the favor will be done out of kindness of heart, give 'em a nice tip anyway!
5) The Catch-All: The Ultimate Wedding Day Emergency Kit by Becca & Megan of Social Graces, Event Planners
Let's remember: The best defense is a good offense. The best cure is an ounce of prevention. Before anything has the chance to go down, have your plan of action already prepared. After all, the only thing we can expect is the unexpected itself! Surround yourself with problem-solvers who can help alleviate stress, try your best to remain calm, and carry on.
Until next time...
Happy Planning!
Photo credit: Weddings Illustrated
Do you have any other great tips and tricks on wedding day mishaps? Have you encounter any of these hiccups at a wedding and want to give feedback? Inquiring brides want to know!